As promised, I'm taking a moment to post commentary regarding Career Day. It went fast, was a whirlwind of companies and was a relief when it was done.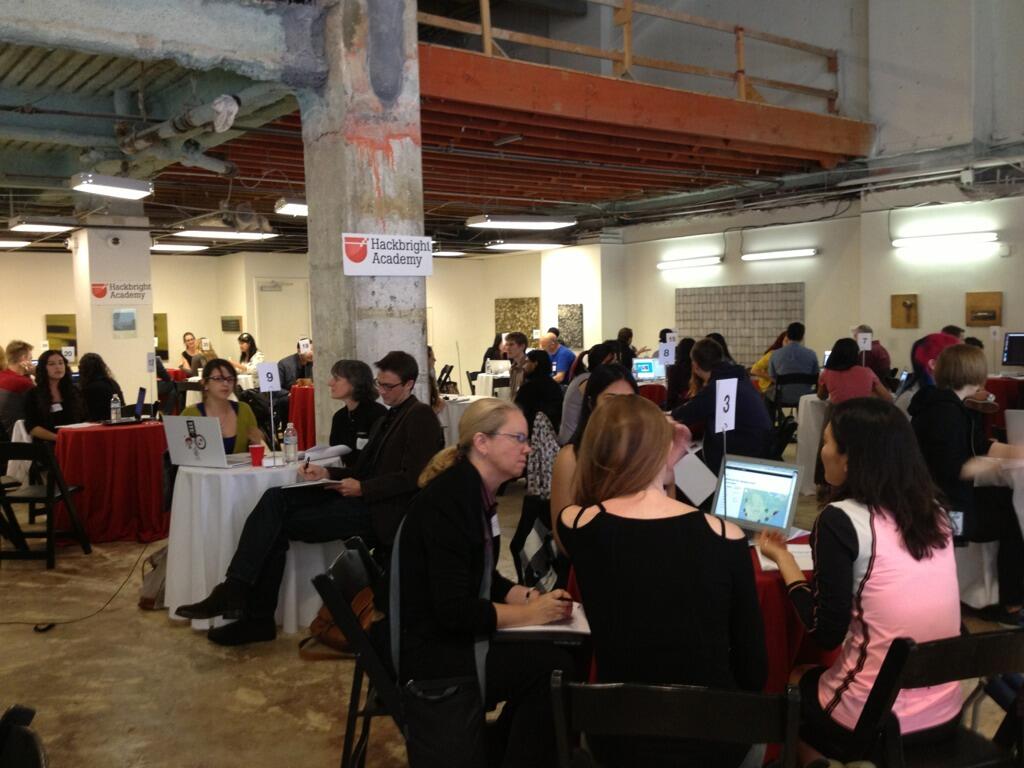 How it Worked:
Career Day is when Hackbright partner companies meet with students individually and see our skills on display through our final project. It was literally interview speed dating. Each student had a table and every 7 minutes the companies would rotate between the tables. It was a brief time to get a sense on whether there was enough fit for a further conversation/interview.
The day started with each company taking a couple of minutes to introduce themselves to all the students before the individual discussions started. After meeting with half the students and companies, there was a break for lunch were we were able to mingle and talk longer. Then the second half continued in the afternoon.
The good stuff: 
There were 25 companies interested in seeing us
After a couple of meetings, I got comfortable quickly sharing my background, interests and app
It was a great way to get a feel for the company and see if there may be a fit
The challenges:
There were 25 companies we talked to in almost 3 hours
Sometimes hard to keep who I was talking to straight
Sometimes hard to remember what I coded or how to explain it
Sometimes hard to remember my name and how to speak English
Tips – My Approach:
Following is a summary of what I did to prepare for, during and after the day that I took from my previous experiences.
I looked up the websites of all the attending companies (they gave us a list a couple of days before). I kept a list on of the companies and put brief notes about the product and questions that I might have. Also, I looked at open positions to see what they were currently hiring for so I'd have an understanding of what roles they may be looking to fill. If I didn't see a role listed, I noted a question for them to find out what they were hiring for.
During Career Day, it took the first couple interviews to get comfortable with how fast 7 minutes went and sort out story points I wanted to hit. So by the 3rd or 4th, I was finally managing the time to usually spend half of it getting the company to tell me about themselves (culture, roles available, timing, etc.). Sometimes its easy to forget that you are interviewing the company for fit as well. When there were brief breaks between meetings, I updated my notes with take-aways from the company as well as tagged the ones I wanted to send a follow-up email.
There were a couple different perspectives/recommendations on when to send emails from our mentors and instructors. Some said to send immediately and others recommended to wait. Career Day was exhausting and its understandable that its hard to have the focus to follow-up (esp. when you have limited experience with writing those emails).
The business world is all about follow-up, and I went with what I know. I sent emails to the ones I liked that night and the next day. I also made a point to thank ones that didn't seem a fit but that I enjoyed talking to.  My notes were fairly short with appreciation and asking for next steps. I added commentary if there was something specific I remembered from the conversation and/or something specific I wanted to thank the person for.
For example, Google came and I gave them a pointer on how they can improve maps to help with the label challenge I was having (see earlier posts). It was said with good humor, and it was a more funny and fun discussion. I followed up in my email with a heartfelt thanks for being a good sport about the feedback and how much I did like the company.
Additional Thoughts:
There were some companies there (not naming names) that I honestly had no interest in. I didn't think they would be a good culture fit and after talking with the representatives, my opinion was completely changed. So it was a great reminder in being open and challenging assumptions.